Custom Jewelry Shopping Guide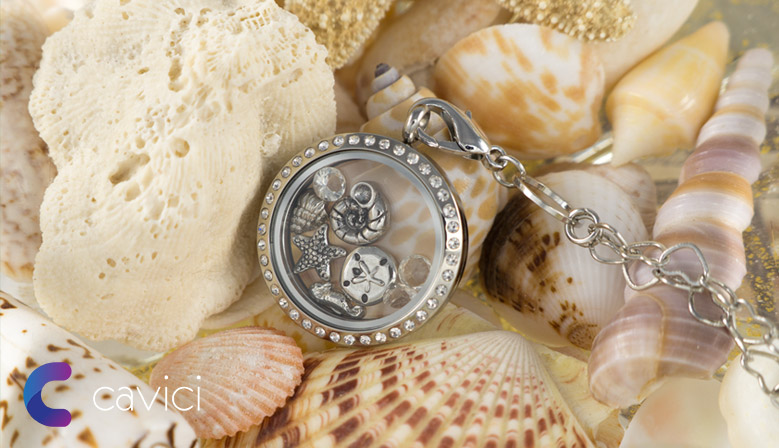 There is nothing more personal, sentimental, and celebratory than creating your own charm necklace, which is basically a modern version of the traditional charm bracelet. It is the new and stylish alternative to showcase your life story, beliefs, milestones, and hobbies by simply combining your favorite charms into an eye-catching keepsake. With hundreds of floating charms to choose from, many lockets and limitless plates it can feel overwhelming when you consider creating your very own charm necklace. Don't worry, this makes the process very approachable.
You may be wondering what exactly is a floating locket? Floating lockets are circular pieces that function like a traditional locket, but made of glass and trimmed in either aluminum alloy or stainless steel. Floating lockets come in either small or large sizes, and are offered in a gold, silver, gunmetal, black, rose gold, or a turquoise finish. Every color is usually available in a solid finish or can be rimmed with crystals.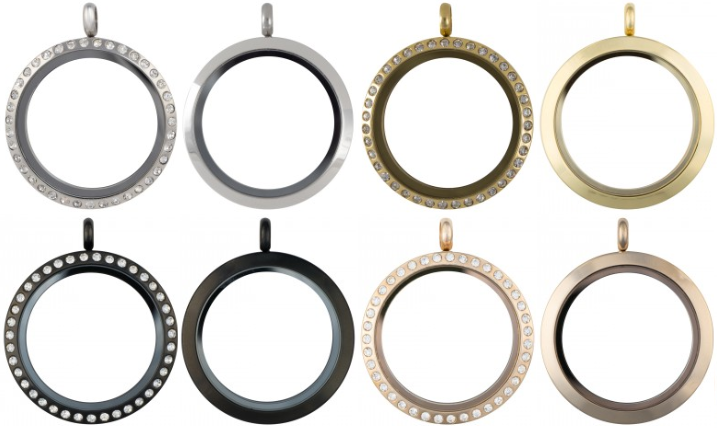 Chains are sold separately and are available in a variety of styles, sizes, and lengths. It's always best to find a locket that fits your personality and will hold all of the charms, plates, and other embellishments you want to showcase. A perfect compliment to a locket is a carefully chosen chain.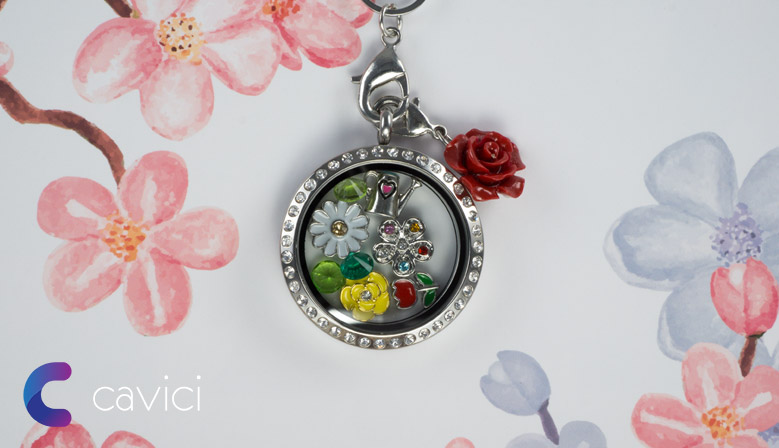 Floating silver lockets are incredibly popular. They are called floating lockets because the charms and plates that are placed within them can move around, creating an ever changing presentation. A silver finish, in particular, makes small, large, and dangle lockets a versatile canvas for customizing. Pre-assembled kits are also increasingly popular, taking much of the work out of finding and choosing the best charms. The charms, crystals and lockets are sold as a set, and make a perfect gift.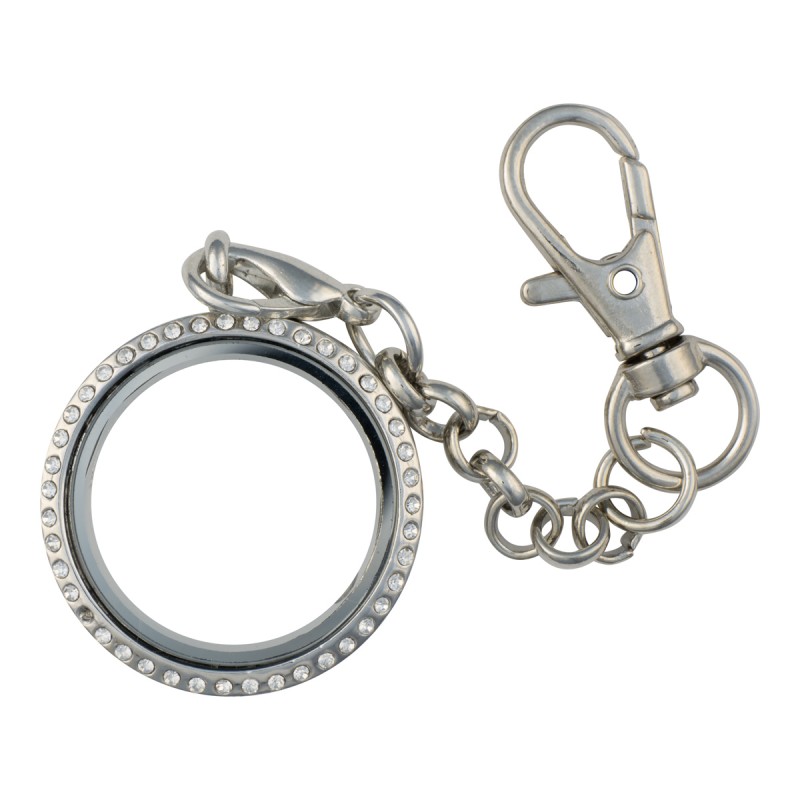 Silver lockets are also available in a dangle. A dangle is a smaller version of the floating locket and can hold a handful of charms. This is a perfect option if you'd rather display a pendant as a centerpiece and use a dangle locket or other pendants as accent pieces. 
If you're looking for something simple to put into your locket, there is an extensive catalogue of locket plates. A locket plate is a thin disc that can be inserted into a floating locket. Plates can be used as accent pieces to the charms you select. Use available text or sentiments to compliment your charms. Or, you may want to simply choose a plate that can be used as a stand alone piece.
The options for personalizing your locket with decorative plates are endless! Some of the most popular themes available are Sports and Hobbies, Faith and Religion, Animals and Nature, Family, Holidays, and it doesn't stop there. Intricate designs and artwork are also available to give your locket additional flair.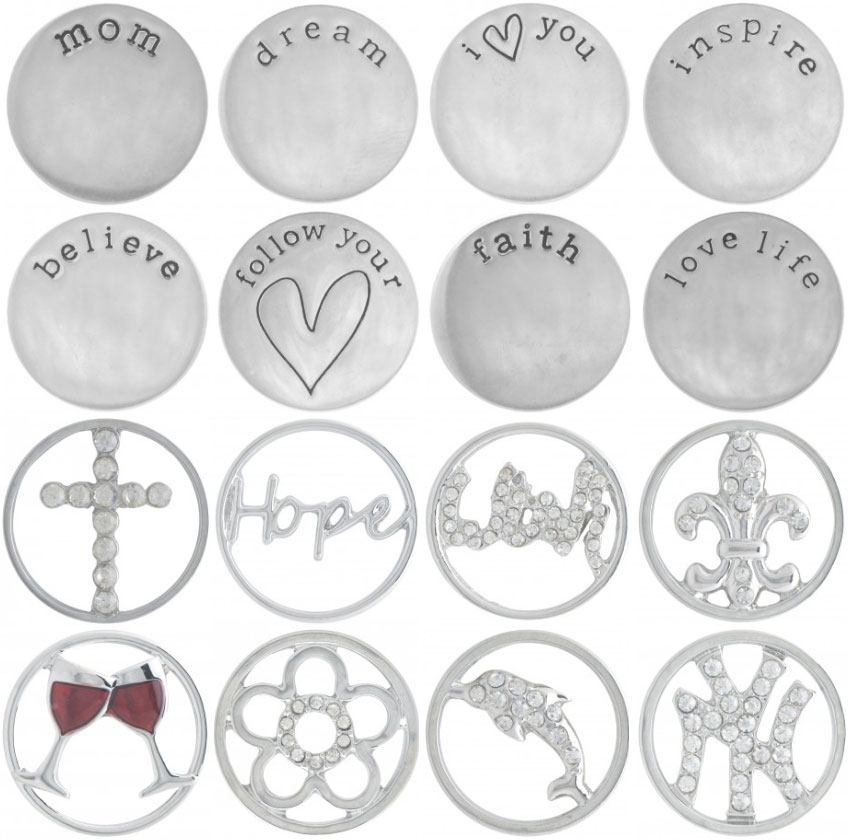 With so many options available, popular charm jewelry sites like Cavici.com offer the ability to filter your search results. Simply check the boxes of the categories that apply to your search on the left hand side of the page. This is a convenient way to view items within a theme, color category, and/or size that applies to your interests without the headache of scrolling through page after page of products.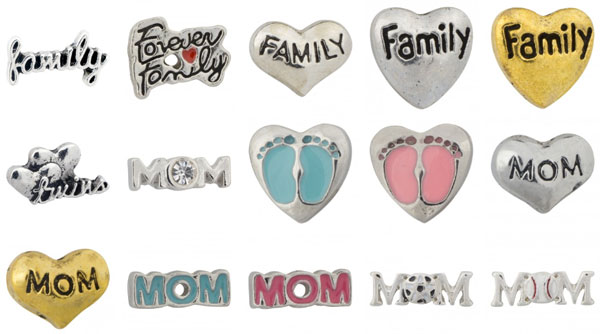 The Family themed charms have always been very popular. These charms can be put together into a floating locket as thoughtful gifts for mothers, grandmothers, and new mothers. Birthstones are available on little boy and girl charms for mothers to showcase the birth month of their child or children.
Traditionally, the locket has been used as a special piece of jewelry to hold your loved ones close to your heart. Memorial Jewelry and Cremation Jewelry are now being offered by many sites like Cavici. Memorial and Cremation jewelry are sentimental ways for your dearly beloved and departed to be kept close and never forgotten. These small vessels can be attached to your pendant or other charm jewelry to keep a loved one who has passed close at all times.
There you have it - start with choosing a theme or memory to base the collection on. From there find a locket and chain that work well together. Next fill it with charms and plates that resonate with that theme or memory. If it is a memory of a loved one, add a piece of cremation jewelry to collection to make it complete. Order the all of the pieces online, and when they show up a few short days later you will have the pleasure of assembling them into a singular, unique and beautiful piece of jewelry.